Kyoto is synonymous with incredible temples, cherry blossoms, parks, markets, serene gardens, tea ceremonies, traditional ryokan and craftsmanship.  It was once the imperial capital of Japan for over 1000 years and the finest gardens have been developed over centuries by many levels of society  namely the aristocrats and the monks.  It is no wonder that Kyoto was voted by travelers as the world's best city, twice.
Figure 1: Kinkaku-ji (Golden Pavilion)Temple is a Zen temple whose top two floors are covered in gold leaf.
Learning that Kyoto was nearly bombed during World War II, was shocking . Kyoto was the first target proposed to test out the capability of a nuclear bomb, the Little Boy, if the military brass had its way. The atomic bombings of Hiroshima and Nagasaki would have included Kyoto as well. On that fateful day in April 1945, when a meeting in Pentagon was held, the Target Committee decided to play God and met to discuss the selection of targets for nuclear bombing (according to Alex Wellerstein on blog.nuclearsecrecy.com). Had it not been for the personal intervention by Henry L Stimson, the then US Secretary of War, Kyoto would have been nuclear-bombed, its gardens destroyed and buried under a sea of rubble.
It took us about two hours by limousine bus over a distance of about 100 kilometers from Kansai International Airport to reach Kyoto bus station. Our first destination was the air b&b accommodation, Mountain Retreat. Mountain Retreat was neatly tucked in the quiet neighbourhood in the periphery of the mountains in Kinugasa Akasakacho Kyoto-shi, in the Prefecture of Kyoto in the Kansai region of Japan. Kinugasa Hills was a convenient choice because museums such as the Insho Domoto Museum of Fine Arts and the Kyoto Museum for World Peace were within walking distance. Located at the foot of the gently-sloping Kinugasa Hills is the famous temple Kinkakuji, the Golden Pavilion (Fig: 1). Taking a bus from Kinkakuji temple, would bring us to the Central Bus Station in downtown Kyoto.
Kinukake-no-michi Road runs between Kinkakuji Golden Pavilion Temple and Arashiyama. Along the way it passed through many of the famous world-heritage sites such as the Ryoan-ji temple (famous 15-rock Zen garden), Ninna-ji temple (Fig: 2) in Omuro and Tenryu-ji temple in Arashiyama, also campus of the University Ritsumeikan, Museum of Fine Arts of Insho Domoto and the Museum for World Peace.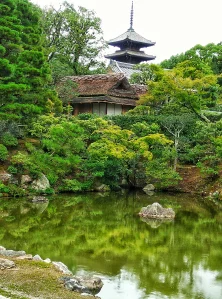 Figure 2: Kyoko-chi pond in Ninnaji temple with the pagoda called the Kondo Hall,  in the background.
Koji and his son were already waiting to greet us when we reached Mountain Retreat that morning. Koji was a slight built man of about 37 years of age. He and his partner were tinkering with plants in his greenhouse. Growing the plants was by no means a mere passion but one that paid him well. Koji spoke very little English but was always ready with a smile. I later found out that a little greeting of "sumimasen" or "ohio" and a slight bow will get you attention and possibly answers in English.
I was excited to be able to get a feel for traditional Japanese style accommodation. Tourists can experience staying in a washitsu (Fig: 3) in a ryokan or a temple to get a feel for Japanese living. The room called a washitsu, came with tatami mats and a futon mattress. This futon mattress can be folded and stored away during daytime thus giving the room an impression of space. The tatami mat is made of dried, woven rushes which are then wrapped around and sewn to a core. Traditionally, the core consisted of rice straw, though now it is often synthetic material. The washitsu room was introduced during the Muromachi period and was used by the nobles as a study room.
The washitsu came with a low table for us to eat from and a low, legless chair called zaisu tatami chair. I may be Asian and used to sitting on the floor with folded legs but having to sit in a zaisu tatami chair to eat was tricky even for me. There was no sliding door, thank goodness for that. The downside to this accommodation was that the bathroom was located outside, some four flights of steps below our room.
Figure 3: A typical washitsu in one of the temples we visited in Kyoto.
The next thing we did was rent bicycles from Koji at ¥500 each.  Cycling around  Kyoto is a must.  It allows a more intimate look at the regular Japanese going about their life.  We did not manage to cycle through the oldest streets of Kyoto i.e Sannenzaka and Ninenzaka  but as we made our way back to Mountain Retreat, we did see traditional wooden shop houses like this one below (Fig:4).
Figure 4: A traditional wooden shop-house, on the street we took to get back to Mountain Retreat.
For most locals, cycling is a normal mode of transport. I saw mothers packing their little ones in baskets, the small one in the front basket while the bigger one was seated behind. I also saw an old lady, in the 80s, effortlessly paddling on the road. Her stamina would put you and me to shame.
Kyoto is voted to be one of the best bicycle cities in Asia for so many reasons. The city is relatively flat, the roads are well maintained and more importantly, Kyoto drivers are sane and patient. There were also plenty of places where you can easily rent a bicycle. Besides, there were ample parking spaces for bicycles in the grounds of the temples and museums. And the Japanese in Kyoto were so honest that you could actually leave your bicycles unlocked. Visiting the city in May would be perfect for cycling.
Among the stops we made while cycling, was the Kyoto Museum for Peace. It is the world's first peace museum, established after two world wars and tens of millions of lives lost. It was established by the Ritsumeikan University, as a social responsibility to reflect upon history and promote the development of a peaceful society it thought was necessary to build a peaceful world. The museum was located far down the road parallel to the Ritsumeikan University campus that you could almost miss it, if you were not careful. After going through the two floors of the museum for about two hours, I came to appreciate how going through natural disasters and the World War II have conditioned the Japanese into a resilient, tolerant and disciplined people. And more importantly, they were able to draw on a sense of social order, unlike scenes in natural disasters in Haiti and New Orleans. There was little anger or looting amongst the Japanese, according to abcnews.go.com/ report, following the aftermath of such natural disasters like tsunami, earthquake in 2011, 2014 etc.
The first day we cycled a total distance of 15 kilometers, with some stops in between, mainly for a gasp of air. We visited at least two temples (namely Kinkaku-ji and Ryoan-ji). Another stop we made while cycling around Kyoto was for vanilla ice cream at an ice cream parlor on Nishioji Street. The cafe made beautiful concoctions of fresh fruits and ice cream. The second day we cycled another 12 kilometers to Ninnaji temple and the two museums. On other days we took buses and trains.
Cycling along the streets of Kyoto gave me a sense of being in the midst of an ancient centre of Japanese culture. Kyoto's history is tangible and accessible on many levels. Going about in Kyoto means coming face-to-face with that heritage on a daily basis. While walking on the street towards a bus stop, glimpses of that traditional life surfaces – an old wooden entrance gate; a sweeping temple roof; a tree-covered mountain; a traditional wooden shophouse (Fig4) ; ladies in kimono walking on the streets (Fig:5); a zen monk wearing a traditional kasa straw hat walking past (Fig: 6); and a traditional hand-pulled rickshaw (Fig: 7). Kinugasa Hills in north western Kyoto was perfect, being completely surrounded by nature. The nature, the old buildings, the surrounding mountains and a population density almost 3.5 times lower than that of the Tokyo metropolis, all convey a small-town feel to Kyoto.
I love Kyoto….the big city with a small-town feel.
Figure 5: Korean tourists clad in traditional kimono walking towards the entrance to Tenryu-ji Temple, Arashiyama.
Figure 6: A Zen monk (?) in traditional Japanese robes and kasa straw hat walking past. I did not notice any straw sandals.
Figure 7: A traditional hand-pulled rickshaw, in Sagano bamboo forest in Arashiyama…a muscular young man tucking the ladies in the pulled rickshaw.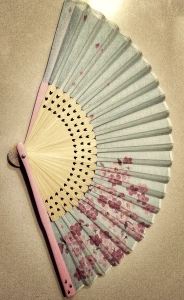 Cherry blossoms painted on a hand-fan symbolizes richness and good luck.