Tunis in 2014
When the idea of a Mediterranean holiday was first mooted in 2014, Morocco was our destination of choice. Despite having made preparations to obtain a visa, the London Moroccan embassy did not approve mine. To obtain a Moroccan travel visa, one had to apply from home country… which was not quite what was related to us when we first called the embassy. So my daughter and I decided to visit Tunisia instead.
About figure: Walking through the old part of Tunis, reminded me of how alleyways are typical of Middle eastern architecture so are blue windows.
Tunisia…? A Tripadvisor forum once posted a question by four ladies (probably from Europe) looking for a relaxing sunny holiday in October 2014. They wanted to decide between Morocco and Tunisia, which was the better destination with respect to sunshine, safety, food, hassle-free for women travelers in their late 30s and best accommodation. Surprisingly, Tunisia came highly recommended for best value with respect to local restaurants and colourful local life, other aspects being almost equal. Tunisia was also the choice as a safer destination especially for women travelers back in 2014. It seemed that crime levels in Morocco (ranked 13th) ) was worse than in Tunisia (ranked 46th), (according to https://www.nationmaster.com). Murder rate in Morocco was four times more than in Tunisia.
For my daughter, the pull was the film Star Wars and planet Tataouine as some of the scenes in the film were shot in Tunisia. Star Wars was not the only Hollywood film to be shot in Tunisia. The 1981 "Raiders of the Lost Ark", action adventure film; "The English Patient", a 1996 romantic war drama film; "Pirates", a 1986 film shot in the Port of El Khantoui in the city of Sousse were some of a long list of 25 or so films shot in Tunisia. Whatever the pull factor, I was ready to be immersed in some desert fantasy myself. Besides, this trip was a time for reconciliation and bonding for two family members living 10,000 kilometers apart.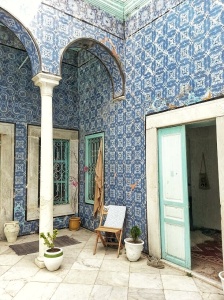 Rue de Pacha & Old Tunis
When we first landed at Tunis Carthage airport, it was well past midnight. We were swarmed by a band of very loud taxi drivers, talking each other down in Arabic and some French, to decide who best to take us to our destination. Both languages were foreign to me. I might have read the entire quran when I was 14 but I did not speak any Arabic. French was totally foreign to me. Finally it was decided on the one taxi that would take us to Rue du Pacha.
About figure: The air b&b we stayed at in Tunis was a typical Tunisian design, run by two university undergraduates. The central courtyard led to all the rooms in the house.
When we were finally dropped off at a small, dimly lit, cobbled street, in the old part of Tunis at midnight, I felt a little apprehensive. Here we were in the middle of nowhere. I could not even make out the street name Rue de Pacha and there was no sign of Taieb. It was another 15 minutes before he suddenly appeared out of the shadows. Taieb (the Airbnb host) (mumbled an introduction as he walked towards us. Taieb was about 5 foot 6 with a typical Middle Eastern beard. I was relieved. I felt we were taking our safety for granted in this strange continent and at such late hour of the night. This feeling of insecurity however evaporated with time.
Taieb walked us through the unlit alleyways towards his place. It reminded me of a scene from Jack the Ripper film. The entrance was a heavy wooden door. It seemed Tunisian homes, rich or poor, are built around a courtyard, which served as a family workspace, well hidden from public scrutiny. Taieb was a university undergraduate. He was rather quiet, I suspect because of his barrier with the English language. His co-host also a university student was more bubbly, chatting with my daughter at breakfast in a muddle of English. Breakfast was typical Tunisian with pastry, bread, fruits and some cheeses.
The morning saw us walking through the nooks and alleys of the medina in the old part of Tunis . In cosmopolitan Tunis, we found that elements of Tunisian culture are diverse and unique. This mix of culture can be experienced in museums (such as the Bardot Museum), contrast and diversity of city architecture (as reflected by SidiBou Said, named after the ancient Sufi scholar), medina of Tunis, cheeses and French croissants, music reflecting Andalusian and Ottoman influences, religion, arts and crafts. According to Linda Cockson, Tunis is termed as "surrogate Paris" ( Travel, Independent Sunday, 13th September 2008) because of its link with French musicians and artists.
About figure: Typical high-ceiling alleys in the souks of the old part of Tunis medina.
We picked our way slowly through the cobbled streets, soaking in all the intrigue, while heading towards the train station to purchase tickets for Sousse. One thing that struck us as very distinctive and iconic, were the alleys and the doors. Doors were huge and heavy and almost always studded with motifs of crescents, minarets and stars. Design of doors would hint at the wealth within the Tunisian house. Generally doors would be painted blue but sometimes they could be painted yellow or brown. Doors of mausoleums of scholars of the Quran are often painted red.
The Great Mosque of El-Zituna
Getting lost in the souks was a great way to discover Tunis. We found the famous El-Zituna mosque or fondly called the Zaytuna mosque after making our way through the souks, worn out from bargaining for crafts, scarves and beautiful handbags from Turkey. One thing we learned was to refrain from showing interest in items you don't intend to purchase in the first place.
About figure: Design of doors would indicate the wealth within the Tunisian house but generally doors would be painted blue, yellow or brown. I found these doors in the alley ways on my way to Zaytuna Mosque, Tunis
The mosque was built in 79 AH and Wali of Africa, Abullah Ibn Habhab completed the construction in 116 AH. The mosque has preserved its scholarly value, graduating many luminaries of Islamic thought. The ancient Zaytuna mosque in Tunis has maintained its position as an incubator of political and social activity for 13 centuries according to Al-Monitor. The concourse of the mosque was filled with pigeons, some would eat out of your hands, if you allow them.
We met two groups of people while in the ancient Zaytuna mosque. First was Marwa, a local undergraduate at the Ez-Zitouna University in Montfleury, Tunis. While chatting with Marwa, we met an Algerian family in the foyer of the mosque. The Algerian woman, who later introduced herself as Khairah, was visibly surprised to discover I was a Muslim. It was probably my attire that struck her as non-compliant. I was wearing denim jeans even though I had a head scarf on. She was however impressed when I rattled off the ayatul qudsi from the Holy Quran by heart.
About figure:The Great Mosque of El-Zituna, literally meaning Mosque of Olive, located in the middle of Tunis medina, is the oldest mosque in Tunisia. It is known that the mosque hosted one of the first and greatest universities in the history of Islam (https://en.m.wikipedia.org). These columns in the courtyard were brought from the ruins of Carthage.
Men-Only Cafe
Even though many Tunisians we met in Tunis were very friendly people, this friendly nature could turn unpleasant, leading to harassment and uninvited physical contact especially for women tourists, if they were not careful. Friendliness especially with Tunisian men must be regarded with caution because many Tunisian men were rather old-fashioned in their outlook.
As we left Zaytuna Mosque, we scoured the area for a restaurant to have a much-needed drink and perhaps, lunch. We found a number of cafes and restaurants that are for men only, forbidding women patronage. These men-only cafes are popular among Tunisian men. This kind of cafes form an integral part of Tunisian traditional lifestyle, almost like a community centre where men gather to discuss politics, sports and everyday subjects. Women complain that stares and verbal harassment kept them out of these male-dominated cafes. In a society where the national unemployment rate was about 15%, these cafes form an outlet for 'letting off steam'. They serve a similar function as the "coffee-shop" back in Malaysia except in Malaysia, women (even in hijab) can sit down and have a teh-tarik without stares or harassment.
Since our thirst became unbearable from the endless walks around the souks, we decided to take our chances and walked into one men-only café to buy two bottles of coke. We greeted the bartender with an Assalamualaikum and ordered two bottles of cokes to take away, fully conscious of the penetrating stares from the entire 'flock' of men, some seated and others standing , looking on in complete disbelief at our trespass. We were lucky to be spared the embarrassment of being ignored. The bartender obliged us our drinks. We paid him and left the premise. As we left the men-only cafe, we wondered if being foreign women, made all the difference in their tolerance.
After the embarrassing trespass of the men-only cafe, we discovered the most delicious pizza joint in Tunis. It seemed in Tunis, pizza is a staple food and is easily available. A Four-cheese pizza, regular size and two drinks cost only nine Tunisian Dollar, approximately £3!
But Tunisian women like Marwa, and some friendly local children who we met, erased any initial negative feelings I had about Tunisian men….until we got to Djerba.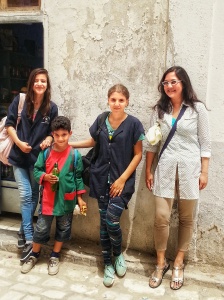 Sidi Bou Said
On the second last day, we took a train to Sidi Bou Said. SidiBou Said is a town to the north of Tunis. It was named after an ancient Sufi scholar. The town is located on top of a steep cliff overlooking the Mediterranean Sea. The view from Sidi Bou Said was exceptional. The town was overflowing with flowers and vines creeping from every wall and doorways. It was so beautiful that many European artists took up residence in the town. It struck me as a town for artists in the midst of blue-white specks. Rue Dr Habib is a bazaar in SidiBou Said , lined with small shops, studios and galleries selling works and reprints by artists and painters from late 19th& 20th Century. I bought one reprint by an Italian artist, Soro La Turco for 25 Tunisian Dollars. I have always loved oil painting so a reprint is always a good souvenir wherever I go.
About figure: Some local children posing with my daughter in the alley way in the medina of Tunis after our visit to Zaytuna Mosque.
Carthage
Carthage is Tunis exclusive suburbs. Its about 15 kilometers from Tunis city centre. We visited The Musee de Carthage briefly.
Villa 78 & Arab Spring
Villa78 was an interesting Airbnb located on the main street at No 78, Avenue Muhammad V in Tunis. It had a garden in the backyard where guests could chat over tea. I looked forward to breakfast or tea in the garden foyer because of the beautiful garden and the cool Mediterranean weather. We stayed here during the last leg of our journey before flying out to London.
I noticed some reflections of activism pasted on the wall of the breakfast room of Villa78. It made me wonder if one breakfast meeting on one morning in the garden foyer of the Airbnb was anything related to this movement. Many protests sprouted from all over Tunisia in 2011. Oppressive regimes and low standard of living makes a deadly combination, and with social media as the driving force, the Arab Spring which started in Tunisia in 2011, spread like wildfire across the Middle East. By 18 August 2014, there was a warning by the UK government advice to keep to essential travel only, declaring south and east Tunisia a "red flag". When the La Italia airplane we took from London flew into Carthage airport on 20 May 2014, I must admit we were unaware of the brewing unrest started by a young Tunisian Mohamed Bouazizi, who set himself on fire. In fact on 27 May 2014, just a week after we flew in, there was an attack on a house belonging to the Minister of Interior in Kasserine.
Tunisia experienced unprecedented political and social changes since the 'Jasmine Revolution' in 2011. Two political assassinations in February and July 2013 led to public protests throughout the country calling for the government and the National Constituent Assembly (NCA) to be dissolved resulting in the resignation of the then Prime Minister, Ali Laarayedh. A new Constitution, which enshrines fundamental freedoms, civil rights and gender equality was approved by the NCA in January 2014 .
Despite the uprising brewing in Tunis around the time we were in Tunisia, I never for once felt any aggression. Ignorance is bliss. I might visit Tunis again if I get another chance. The lure of Sidi Bou Said, the town for artists, affordable food and accommodation, and the Mediterranean weather, would see me heading this way again……insyallah.